DISCUSS PUS
Some artists really blow me away, Pushead is definitely one of those artists for me. Even if you don't "know" Pushead's work you really do know it. You can see it on the majority of Metallica shirts, probably what he is best known for. His style is strictly him, something in his lines and shading that is often duplicated but never replicated.
I was talking to my girl the other day about what draws me to streetwear, or at least the brands that I love. I think part of it is how it's just all mixed together with punk rock, hardcore and metal subcultures. The brands that have inspired me have a history in these subcultures and it comes out in the designs. Pushead has done work for so many different bands and has also made his way into streetwear and skate culture as well.
I think one of the craziest collaborations for me was to see pushead's vision on a kaws companion...
If that doesn't make you wanna spend at least 500 bucks on a toy, I don't know what will.
As I said before Pushead is most well known for his work for Metallica. It's the perfect matching of art and music...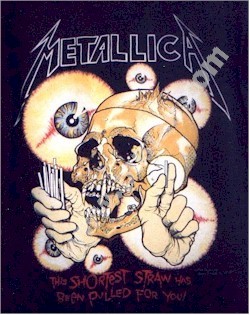 I could post a shit ton more pictures of his work for Metallica but I'm sure most people are familiar with that work anyway. I'll leave you with a really powerful piece he did for the hardcore band In My Eyes...